It's game day. You will go on stage and wow the audience in a few, or perhaps several, hours if you session is late in the day.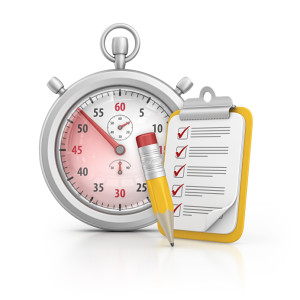 All the hours you've put into crafting your story, building the slides and rehearsing will soon come to life on stage. The next few hours, however, are critical to success and can make the difference between wowing the audience and disappointing them.
Here is a checklist of things to go through the day of (or even earlier if possible) your presentation:
Check out the room. Go to the room you will speak in as early as possible when you arrive at the venue. Check out the layout and acoustics. Is there a stage or riser? Or will you be speaking from the same floor level as the audience? Is it a small room or the main stage?
Where is the projector? Is it mounted on the ceiling giving you freedom to walk in front of the screen? Or is it on a table in front of the screen, which limits where you can stand and move as you will block the projection from reaching the screen if you walk in front of it.
Meet the A/V people. Your stage life is in the hands of the A/V folks, make sure they like you. Make small talk, chat about the music they will be playing, the weather, sports, whatever. Ask their name and shake their hand. Build a relationship with them. You want them to care about you and take care of you before and during your talk.
Tell them when you are going on stage, the name of your presentation and if you have any audio or video in your presentation. Tell them if you plan to jump off the stage or walk around the room.
Confirm which laptop will be used to run your presentation. Will you be running your presentation off an event supplied laptop or your own?  If your own and you use an Apple Mac laptop did you bring your own VGA adapter? Have you tested the clicker to make sure it works with your Mac?
Presentation. Does the event organizer have your final presentation? Make sure you have them open it and project it onto the screen. Grab the clicker and run through your slides checking screen alignment, colors and that builds all work correctly. You don't want to find out in the middle of your session that the yellow color you use as a background in graphics, charts and callout bubbles looks washed out on the screen and is difficult to read.
Slide Presentation Clicker. Make sure the A/V folks have a clicker and you test it out and are comfortable with it. If you have your own clicker see if the A/V people will let you use your own. Regardless of which one you use, make sure the clicker has plenty of range, works smoothly and has enough battery life.
Microphone. Confirm with the event coordinator AND A/V that you will have a lavalier microphone if you asked for one or expect there to be one provided. If it was written into the speaker agreement, make sure you have a copy if it isn't provided. If the organizer will not provide a lavalier mic, demand a hand held. You do not want to be stuck behind a podium where you can't move around and may have to lean forward toward the microphone continuously to be heard. If using a handheld microphone, plan out in advance in which hand you wiIl hold the microphone and which you'll will use for clicker.
Are you being recorded on audio video or is it being live streamed? Knowing this in advance, you can factor into whether you should reconsider using an expletive or taking a humorous dig at a competitor.
Audio or video. If you have audio or video in your presentation make sure you test it with the A/V person.
Lighting. Get on stage with the lights on. Are they in your eyes, blinding you and making it hard to see the audience? See if the lighting team will adjust them a bit so they are not aimed directly into your eyes.
Water. Make sure you have some. Where will you keep it on stage? Often the only place on stage to place your water bottle or glass is an angled podium. Check it out in advance. Will your bottle slide off in the middle of your presentation? So you may have to put your water on the stage floor or a chair.
Path to the stage. Figure out in advance where you're going to sit or stand before walking on stage. Are you making a grand entrance from the back of the room, standing near the stairs to the stage or sitting at a speakers' table? Or if it's a breakout session after a break are you going to stand on the center stage with no entrance at all?
Introduction. Are you being introduced by someone such as a moderator, event or room coordinator, a sponsor, yourself or co-presenter? If a sponsor or event coordinator find out not just how they are going to introduce you, but what other announcements they are going to make. You don't want to be blindsided by the moderator talking for 5 minutes about event announcements, stealing your thunder with a tease from your presentation or opening joke, or getting your background or title wrong.
Bio. If you are going to be introduced and your bio read or referred to, ask to see it. It is not uncommon for event organizers to grab your bio from a few years ago or someone from your marketing team sends the wrong version. Make sure you have the correct one on your laptop as a back up.
Session Duration. Confirm your session start and end times. If the event is running behind schedule, find out how or if that will affect your time slot.
Set up/Transition period. Most conferences will have at least 5-10 minutes between  sessions, or schedule longer breaks. Know how much time you will have to get your microphone on, get your water and everything ready to go. If there are zero to 5 minutes between sessions then make sure you are ready to get started the second the previous speaker finishes.
Previous/Post sessions. What comes before your session? Do you follow or precede the keynote speaker or a unique personality? Are you the last session of the day or before or after lunch or a break? Hope might these different scenarios affect your approach?
What's your opening? Do you know what you are going to say when you walk on stage? Do you have a story based on something that happened on the way to the event, something another speaker said or a current event?
Will there be translators? If you are speaking in a foreign country, there might be translators in the back of the room. Meet them in advance and walk them through your presentation explaining any key points or concepts that might be difficult to translate.
What is the audience like? If you are speaking on day 2 or 3 or in the afternoon of day 1, note how the audience responds to and engages with the other speakers. Are they lively and engaged, or are you going to have to work extra hard to get them to listen intently to your session?
Will you take questions? Have you built time into your presentation for question at the end or even during your talk?
Contact information and Twitter handle on your slides? Do you have your Twitter handle on your title, closing and several slides throughout. Did you include your email address?
How are you making the slides available? Does the event organizer post them to a special website or email links to attendees? Will you post it to your own site or SlideShare?
Business cards? Did you bring a stack of cards to give attendees who come up to speak with you after your session?
Handouts or call to action? Does your employer have a trade booth or stand at the event you can direct attendees to? What are you giving them, a white paper, research report or branded USB phone charger? Does it relate to your presentation? Are you offering a free audit?