One of the key traits of successful speakers is having a significant focus on preparation. When you reduce the chance of things going wrong, you are more relaxed and can better focus on the audience and how you are going to approach your presentation once on stage. One important element of preparation is having a selection of "tools" that contribute to a low-stress presentation. Following are 10 tools that you should bring with you to every speaking session:
1. Laptop: While many event organizers will supply a laptop from which to run your presentation, many ask you to use your own. But even if you are certain you will be presenting from the organizer's computer, their version of PowerPoint might mangle your slides or you might discover that you need to make a last minute tweak. I know of some keynote-type speakers who only travel with an iPad, but for most of us having your laptop as backup is vital.
2. Presentation Clicker: Owning your own clicker is a must. I continue to be shocked at how many event organizers don't supply them, especially for non-keynote sessions. I've a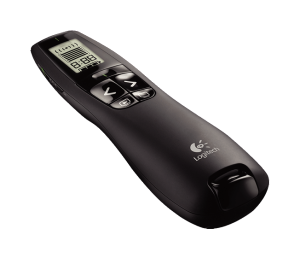 lso found that the A/V personnel often forget them or leave them in a box far away from the room in which you are speaking. I've also witnessed a keynote speaker being forced into stalling for several minutes because the previous speaker walked off stage and put the clicker in his pocket. Finally, the last thing you want is to have issues with a clicker. Each type has a slightly different feel and can cause brief moments of panic if you click the wrong button or click too many times. Using your own clicker ensures you've got it down.
3. Adapters/Converters: If you use an Apple Mac laptop, make sure you always carry a VGA adapter as many A/V vendors may not have one. Consider bringing an HDMI adapter as these are starting to become more popular, especially in smaller room settings. Also, if you are speaking in another country make sure you bring your own electricity converter/adapter so you can plug in your laptop.
4. USB Flash Drive: Always travel with a couple of USM flash drives (memory sticks) and save backups of your presentation as you work on it. Then save your final version into a folder with the name of the event. Even when event organizers have received your presentation in advance, half the time it doesn't end up being loaded on the machine in the room you are speaking. Or often you'll discover they don't have your final version. In addition, you will often have a last minute inspiration based on a conversation at the speaker dinner, or after watching the morning keynote and you will need to update your presentation. Having your final/updated presentation of a USB stick makes life easy for the A/V person.
5. Timer: While the room you speak in might have a confidence monitor, timer or person that will hold up a sign, I recommend not relying on the event organizer or supplied timers to tell you how much time you have left. You need to own time tracking as much as you own your slides. I, for example, like to use a kitchen timer app on my iPad. I set the countdown timer to my desired duration and set it on stage or in the front row where I can see it. Use whatever works for you: smartphone clock, setting your watch on the podium or iPad app – but do make sure you can track your progress at all intervals throughout your presentation.
6. Lip Balm: I often find that my lips are drier than normal before I go onstage. Dry and chapped lips can make speaking a little more difficult and awkward if you are licking your lips or just thinking about how dry they are. Carry lip balm with you and apply it early and then again shortly before going on stage.
7. Water Bottle/Bottle of Water: Water is critical while speaking on stage and I recommend using a bottle over a glass. A bottle is easier to drink from, hold in your hand and less likely to spill. You can also set it on an angled podium, unlike a glass. Bringing your own refillable bottle is a great and greener alternative to a plastic bottle.
8. Evernote/Box/Dropbox: I like to use an online notes service like Evernote to keep all of my speaking session details handy and accessible across all devices. Uploading your slides to a service like Dropbox, Box or Evernote is imperative for transferring large file-size presentations, but also makes it easy and handy to view your slides that one last time on a mobile device before you walk on stage.
9. Tablet/Smartphone: As mentioned above, I am especially found of using my iPad Mini for three things: 1) As a timer; 2) To access and make notes about the event and speaking session; 3) And to view and practice my slides before going on stage.
10. Gum or Breath Mints: Carrying gum or breath mints with you is always a good idea. But since you will be interacting with event organizers, people introducing you and audience members before and after your talk – not having horribly bad breath is good for your brand as a speaker but also contributes to your confidence both on and off the stage. A small thing perhaps, but you don't want to be on stage thinking about your garlic breath. Are there other tools that you are never without when presenting?
Please share in the comments.