A common question from less-experienced speakers is: "What is the average or ideal number of slides per minute when presenting?"
This is a bit like asking: "What's the perfect minutes per mile pace when running?" The ideal pace for running and presenting depends on multiple factors including the individual and context of the situation, so don't believe anything you read that suggests a specific average.

If you follow someone else's guide you risk finishing a presentation either too early or too late. There is no rule of thumb for everyone, but there are several factors you should consider that will help determine what is a realistic target number of slides to use to make sure you finish within your targeted time.
Variables That Affect Slide Count
The only rule of thumb that matters is the one that works for you as a speaker and the specific event at which you are speaking. Several factors and variables that will determine what is a good target number of slides for your session include:
Are you presenting alone or with another speaker?
What is your speaking style like? Are you a fast talker? Do you click through your slides at a rapid fire pace, do you stick to a script, or do you like to just talk to slides and see whatever comes into your head at the moment?
Do you get fairly nervous when presenting and speak more quickly than normal and end up racing through your slides?
What type of presentation are you giving? Is it an inspirational keynote, where you might ad lib a lot and tell many stories? Or is it a tactical tips topic delivered in a breakout room?
Is it a short or long presentation? In an hour talk you may have a lot more transition and "quick-point" slides than you would have in a 20-30 minute talk. So in shorter presentations you could have a higher ratio of time per slide.
What is the setting like, including the room layout and the expected mood of the audience? Is it a small room providing an intimate feel that may drive lots of questions and interaction from the audience – reducing the number of slides you will be able to get through?
What is the layout of your slides like and type of content you are presenting? Do you have slides with a few bullets that you will speed through; lots of visual slides you use as transitions or to make a quick point – or that you use to simply tell stories from that may run a few minutes each?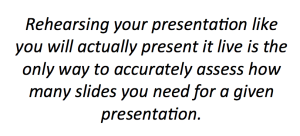 Individual Styles Can Dramatically Vary Slide Count
Ultimately your individual speaking style determines your usual average time per slide. Two co-workers who also speak a lot have very different styles and hence use a vastly disparate number of slides for a presentation on the same topic.
The three of us frequently present the same topic and start with the same core presentation and number of slides. However, we each customize the presentation to our own style resulting in a vastly different number of slides. One co-worker typically uses 100 plus slides for a 60-minute time slot; another will use 40 to 45; and I might use 70 to 80.
Room and Audience Size Are a Key Factor
Your style may evolve the more you speak. You might use fewer slides as time goes on as you become more comfortable engaging with audiences and ad-libbing or telling stories. Or you might evolve into using the rapid-fire slide approach – or even a combination of the two styles.
Delivering the identical presentation to different audiences and room environments can also significantly change the number of slides you can use. I recently delivered a 35-slide presentation in roughly 29 minutes to an audience of about 125 people in London. A few days later in San Diego, I spoke in a more intimate environment – a small room with about 35 attendees. Even after cutting two slides from the London presentation, this time I spoke for more than 35 minutes because I fed off of the more intimate nature of the room.
Rehearsing is the Only Answer

Rehearsing your presentation like you will actually present it live is the only way to accurately assess how many slides you need for a given presentation. Even then, I recommend deleting some slides if your rehearsal times finish at your targeted time. You need to account for delayed starting times, a longer than expected introduction by the session host, a question from the audience and the likelihood of your ad-libbing and adding additional color to your slides.
The factors listed above will greatly affect your cadence and can produce a very different pace than your normal ratio of minutes per slide. So keep these variables in mind when estimating the ideal number of slides for a specific session – and then rehearse multiple times to gain a more realistic assessment.