Images are the foundation of every good slide presentation.
No audience member wants to read a bunch of text on a slide, but just as importantly, the human brain processes images thousands of times more quickly than it does text. The right image can also immediately spark a desired emotion – humor, contemplation, sadness, pride, etc. – or bring a concept to life.
The wrong or a poor-quality image can also distract from your presentation – driving audience members to check their email accounts or groan with displeasure.
Access to one or more stock photo accounts is key then to ensure you have a supply of high-quality images. But stock photo services can also get expensive and they don't always have the image you are looking for. The answer: Supplement stock photos by creating your own personal photo library.
Situations to Look For
The quality of smartphone c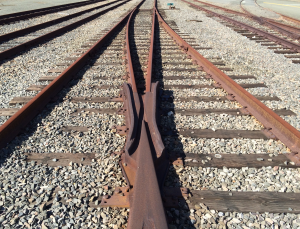 ameras today is so high that you need not worry about buying or using a SLR/DSLR camera. You likely already have your smartphone with you at all times, so creating your own stock photo library simply requires a small change in your behavior.
Have your smartphone camera at the ready when you walk your dogs in the neighborhood, go for a hike, walk from the train to your office or tour a city you are visiting on vacation or business. Keep your eyes open looking for photos that can be used for:
Simple backgrounds
Title/Transition slides
Humor
Strategic/Big-picture concepts
Tactical ideas
Emotions
Photo Framing Tips to Keep in Mind
When walking around, keep these tips in mind:
Since the 16:9 format is now becoming standard, you will generally want to take a horizontal, wide photograph rather than vertical.
Take several shots of the subject form different angles and distances. Get close to the subject. You'll crop the image later, but if you have to enlarge the photo a lot, image-quality will suffer.
Frame with room for text. Most of the images you use will include text somewhere on the slide. When framing the photograph, think about an area of the image that isn't a focal point where you can place text.
Consider the "rule of thirds." The design principle called the "rule of thirds" simply means that the focal point of your photograph is located in the one-third region both vertically and horizontally. This approach also naturally provides space for text that doesn't interfere with the key focal point of the image.
Be aware of lighting and glare. Snap a shot and then take a quick look at the image. Would it better by finding a different angle, either relative to the sun or whether you are looking straight on or from above, below or to one side.
Organizing Your Photos
You should already have a main folder on your computer and/or cloud storage account for "Stock Photos/Screenshots." Within that folder, organize your images in a manner that works best for you – by source (e.g., name of stock photo source, your name, client screenshots, etc) and/or by category of what the image conveys.
While you can obviously view the images in a folder by thumbnail, I still recommend that you name each image file with a description of what it is of and potentially the concept it can be used for. Also, add the image source in the file name, such as "Loren," ""iStock," "WikiCommons," etc.
A Few Examples
Below are two scenarios and examples of leveraging photos from my "Loren" stock photo collection: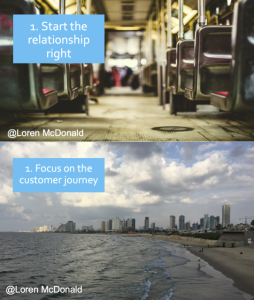 1. While in Tel Aviv, Israel I had a gut instinct that the "inside of a bus" stock photo I had used in other parts of the world might be viewed differently than intended. I don't know if my instinct was right or wrong, but I didn't want to risk it. To me, it had a vague look of a bus that may have been destroyed in a bomb attack. So I used a photo  I took the day before of a Tel Aviv beach looking south from Jaffa toward the hotel where the event was held.
Using this image did three things:
It helped localize my presentation conveying to the audience that this wasn't a standard, "given everywhere" presentation.
It provided an opportunity for me to briefly chat about my walk the day before and help make the session a bit more personal.
It removed any concern I had about the "bus" image.
2. "WHAT ARE WE GOING TO DO?" I captured this image in the entrance to the Tate Modern museum in London. Several people were protesting BP oil being a major sponsor of the museum by writing quotes and sayings on th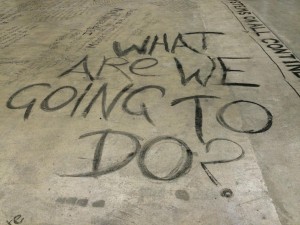 e concrete floor entrance to the museum. I captured several images but this is probably my favorite and most usable.
I now use this image frequently to set up the ending of a presentation to talk about how to move forward on the ideas conveyed up to then. I find it much more interesting and impactful than a simple text-based slide.
What are you waiting for, start taking photos!