Perfecting your slides, rehearsing, preparing for the actual presentation and traveling to the event are typical things you will focus on in advance of an upcoming presentation. But before you ever get to those steps in the speaking process, coming up with the title and description of your presentation is the foundation of your eventual success on stage.
If you are a book author, CEO or celebrity your topic is likely pre-ordained and may just need some tweaking for the specific event and audience you will be presenting to. And if you inherit a presentation or topic, you may have little opportunity or flexibility to change things up.
But what if you are invited to speak at an event, want to submit a session proposal for a conference or your events team secures a sponsored session as part of the exhibiting package? What then?
The Topic Drives Your Success
Why is your session topic the single most important driver of your success? Five key reasons your topic title and description are so important:
The title sets expectations for the audience.
It determines your core story line.
Puts bookends around what slides you can leverage from your inventory and other presentations.
Drives how comfortable and relaxed you are with the slides and storyline.
Becomes the outline when you sit down to craft your actual presentation.
Simply put, if you give yourself or someone else a topic and description that you aren't fully comfortable with or are lacking material, examples and stories – it will show in your presentation. The audience will feel it and you will do your best with the material but aren't likely have your best showing. (Note: The caveat of course is if you are intentionally creating a brand new presentation – but the importance of the topic title and description remains.)
Try This 8-Step Process
To help you get that topic just right so you can nail your next presentation, follow my 8-step process. Each time you are confronted with coming up with a topic, you might not use all 8 steps or in the same order, but for best success you will likely need to incorporate a majority of them. Let's get started: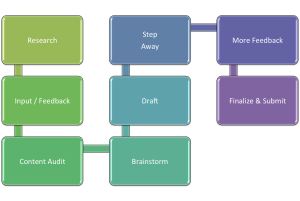 1. Research: Review the event website or materials you've received. Look for profiles of the attendees (these might be included in the sponsor package), find the theme for the conference, determine who are the sponsors and exhibitors, past speakers or those already slotted for the upcoming event. Pay special attention to who the keynote speakers are, their topics and also what competitors will be speaking about. Where is the event being held? What is the expected mood of the industry and attendees? What are the buzzwords and hot trends in the industry? Does the event have specific content tracks?
If there is an online submission process, look at the questions being asked. Common these days are questions like: What are 3 takeaways from your presentation? Is your session targeted for Beginner, Intermediate or Advanced audiences? Is your topic best suited for (list of industries or B2B versus B2C, etc.)?
Understanding what's going to be required in the form fields in advance will help you better craft the actual topic and description. Also, knowing that you are going to select the "B2C" and "Intermediate" audience-type options, for example, gives you additional focus and clarity of your topic title and description.
2. Organizer Input: If you have the opportunity, have a conversation with the event organizer or those who will influence or review the session proposals. Ask them: What types of sessions have been the best received in the past? What did not go over well?
3. Content Audit: Knowing your slides and topic cold is usually the best indicator of success on stage. So while coming up with an entirely new topic sounds great now, do you have the material you will need including case studies, examples, anecdotes, images, research, statistics and other content?
Even better of course is that you already have many or most of the slides you will need for the proposed presentation. Look at your existing content and slides and determine if you can leverage an existing presentation or topic for this event and audience? Or do you need to update an existing presentation, tweak it or rework it?
If none of the above will work, can you build a great topic and presentation by packaging slides from multiple presentations into a new one? The advantage of this last approach is that it can give you a new and fresh topic and presentation, but also doesn't require you to start from scratch. You just need to figure out the glue that binds the different elements together.
Leveraging a lot of existing slides, even if repackaged, has the huge benefit of your knowing them well, having stories to tell and the ability to ad lib to each slide. The culmination is that you have increased confidence when presenting this new topic, because it is actually the repackaging of a presentation you have probably given at least a few times in the past.
4. Brainstorm: Jot down notes in a tool like Evernote. When you come across articles, TED Talks presentations, blog posts, books or things you observe in everyday life – grab links to the content or capture your ideas in rough note form.
5. Draft: Now it is time to start writing and take a stab at a first draft of your topic title and description. Hopefully you've got a decent understanding of the audience and what's on their minds, the theme of the conference, what content you have to work with and a smattering of ideas that you've written down.
Use whatever approach works for you, but I like to think about the description in 3 buckets: title, main description and bullet points. Just start writing whatever comes in to your head based on your work so far, but focus on one of these areas at a time. You might take a stab at a placeholder title and then jump to writing 4-5 bullet points that convey the core elements of your presentation. These bullet points ultimately serve as an outline for your slides and possibly how you presentation is organized into sections. Look at your bullets points. Do you have content to support them or are you confident you can translate them into compelling slides. If not, rework them until you are confident you can get on stage and speak confidently to each point.
With the bullets coming together you might turn to the main part of the description. Think of this as being similar to a description of a book or film. It needs to capture a potential attendee's interest quickly, provide a reason they should attend and give them confidence that will get what they expect out of the session.
Now see if the title, description and bullet points are in harmony? Are they consistent and do they support each other? Is the title catchy? Does it generate intrigue, but also strongly hint at what will be covered?
6. Step Away: If you aren't up against an immediate submission deadline, let your topic description draft sit for a day or two. Think about it on the commuter train, in the car or over coffee or a beer. Don't however, focus on the detail of the draft, rather think about it from your memory and at a very high level.
Stepping away from the written description often gives you new perspective. You may discover upon reflection that you honed in on the tactics and takeaways that attendees crave, but you didn't really provide the context of why your topic is important and a "must attend." It is also possible that you will read something, hear something on the radio or have a conversation with a peer or client that will spawn an idea or twist that you hadn't considered. Add your notes to your draft, but don't necessarily worry about revising yet.
7. Feedback: Next you may want to share your topic idea – whether the draft description or just your high-level idea – with co-workers, clients or contacts at the event organization. The more interaction you can have with the people responsible for selecting or approving your session, the better chance you have of getting a "yes."
8. Finalize & Submit: You are almost done. Make your final revisions, check for grammar and spelling and submit online or directly to the event organizer. Good luck!
One final note: Don't forget to check the event website to make sure your information is both up, in the correct time slot and correct. You will often find an error of some type.