What ISN'T on your slides is the most important part of your presentation.
As a speaker, you might spend hours and hours working on and fretting over your slides … building a great story and making the slides visually appealing.
But if presenting was just about your slides, then you could simply post them on a site like SlideShare and not bother presenting live on stage.
The audience comes to hear you speak, not sit in silence watching you click through your slides. With most speakers moving to a visual-focused slide design approach – using images that convey a key message, perhaps with a few words – what you say about that slide is EVERYTHING.
Your slides are like a photograph, but it is your job to bring it to life through spoken words (whether a few or 1,000), stories, examples, audience involvement, voice inflection and body language. When building your presentation, focus as much or more time and energy on your talk track – what ISN'T on the slides – as you do the look and content of each slide. Your presentation is a collection of stories – make sure you have great ones for each slide or series of slides.
The slide below, for example, is one I use often to convey a point about usability, customer experience and that your customers don't know how to navigate your web site, emails, mobile app and other touch points like you do. They likely don't frequent them often. So it is your job to make it easy and to tell them what to do.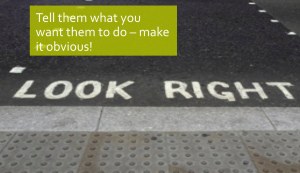 I bring this point alive by talking about that even though I've visited London a few dozen times, I still need to be reminded which way to look before crossing the streets. And London city planners understand this human behavior by painting "Look Right" and "Look Left" signs in cross walks.
The slide itself has the image and only 11 words in a text box (which I could probably even remove), but I typically spend a few minutes to bring the image and point alive.
You are the presentation, not the slides. Remember, a great speaker can still rock the stage with mediocre slides, but a mediocre speaker will struggle to turn awesome slides into a killer talk.