By Derek Harding, guest contributor*
When I was younger music played a significant role in my life. Work, marriage and children caused me to put it on the back burner for many years. Last summer I played my first gig in over twenty years. Coincidentally, the very next day I flew to Portugal to moderate a panel at a marketing conference. The two experiences, and in particular, the effect of one on the other got me thinking.
What I realized was my musical performance changed my attitude to my professional performance. In my panel moderation I was freer, more dynamic, more enthusiastic and more focused on entertaining than usual, and it wasn't a coincidence.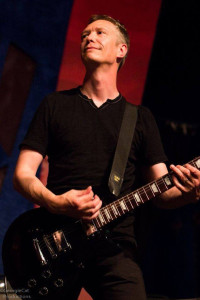 There are many differences between performing in a rock band and running a conference panel, but there are also many skills that translate well and develop more quickly in a less corporate environment. There are three areas in particular:
1. Equipment
Stepping onto a brightly lit stage can be disorienting and disconcerting whether it's a pub or a conference venue. The same is true of working with amplification. The first time you hear your voice echo around an auditorium can throw you completely. Unfortunately opportunities to practice are often very limited in the professional sphere.
2. Presence
We've all seen novices step nervously onto the stage and felt their discomfort transmit directly to the audience. Similarly we've seen great presenters take command of a stage and felt the buzz and excitement grow. Stage presence is not an innate quality, it's a learned skill that comes with practice.
3. Persona
It's a natural and common reaction to become self-conscious and muted when under the lights when the opposite is what's called for. There's nothing like a pre-made role to make you step outside your normal boundaries of behavior and play larger than life.
All of these skills take time to develop and to hone. There's no substitute for practice and great presenters are made not born. Yet for many of us, our professional development is judged on our initial, most halting and stumbling performances. We either get thrown in at the deep end or passed over due to inexperience.
While I realize that not everyone can be a rock star, and not everyone wants to be one, there are myriad opportunities to perform on stage. Whether it's joining an amateur theatre production, a choir, an improv comedy group or just attending poetry slams and open mic nights, there is something for everyone. These provide alternative venues in which to experiment with equipment, presence and persona outside of the professional work environment so that next time you step up to present – you will do so like a rock star.
* Derek Harding is a Seattle-based entrepreneur and marketing executive who also likes writing about digital marketing trends, discussing politics and playing classic rock on stage. Derek was the founder and technologist behind Innovyx, one of the first Email Service Providers later acquired by the Omnicom Group. An email industry veteran and thought-leader Derek is a regular expert author, contributor, and conference speaker.