What process do you use to generate your best presentation ideas?
For most speakers, the process of staring at PowerPoint slides on your computer is not going to generate your "aha" ideas, those concepts that get both you and your audience excited, surprised or motivated to take some action. In fact, for most people, their best ideas tend to flow when they are either physically or mentally far away from a computer and slides.
If you ask people, "When are you most creative, when do you come up with your best ideas?", the response is typically one or more of the following: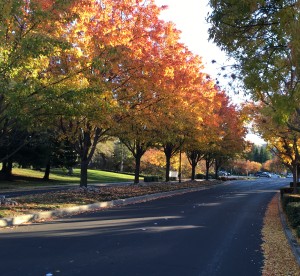 While running, walking or working out
When I'm about to fall asleep
Flying on an airplane
In the shower
Driving in a car
Listening to music
Take the survey to share your idea generation process.
What all of the above have in common is varying degrees of isolation. Many involve wearing headphones, blocking interruptions from the outside world and listening to music, the radio or podcasts.
In a car, airplane or even in the shower there is a sense of physical separation from the outside world. Obviously, if you are driving a car, there is significant element of concentration on the road and other cars that is required, but the outside world is mostly blocked out.
But does being isolated at varying degrees suddenly make ideas just pop into your head? For most people, the answer is no. There is still the need for some external stimulation or existing concepts that trigger your new ideas.
In the paper "The AHA! Experience: Creativity Through Emergent Binding in Neural Networks," Paul Thagard and Terrence C. Stewart describe a process of convolution, the concept that most breakthrough new ideas are combinations of two or more existing ideas or concepts.
The key for you as a speaker is to find what works for you, what is your "go to" process for generating those great ideas and concepts that can then create those "aha" moments that bring your slides and presentation to life.
One of my personal current processes is to go the gym, get on the treadmill or bike and listen to a Freakanomics podcast. The combination of earbuds, sound and walking on a treadmill or pedaling give me the first part of the equation, which is a some semblance of isolation and blocking out interruptions and interference.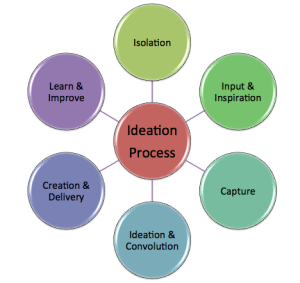 So how do you bring it all together? What does a successful idea generation process look like. Here is my 6-step framework:
1. Isolation:Put on those headphones, go for a walk and try to block out distractions from the outside world. Your goal is not to have zero external sensory interruptions, but keep the ones you do have to a minimum. They should actually help, rather than distract, from the ideation process.
2. Input and Inspiration:Watch some random TED Talks video on your flight home from somewhere, listen to an NPR Fresh Air show, a podcast from something like Freakanomics, read a book or Harvard Business Review article.
Pick your poison. Seek out content outlets that you love, find inspiring and make them part of your go-to sources of inspiration. But also try varying your sources if you can so that you are getting different viewpoints and angles. Don't just take in content within your field, as you will find that your best ideas will come from outside of your domain.
3. Capture:I'm a huge fan of Evernote, but it doesn't matter whether you use a note-taking app, dictate your ideas or write them down on the back of an envelope or note pad. And don't worry about spelling or perfect sentences, just make sure you get the essence of the ideas written down somewhere so you don't forget them.
4. Ideation & Convolution: With notes and raw inspiration in hand, now comes the step of turning the rough idea(s) into your big "aha" concept. Play with the ideas, noodle them, throw them against the wall, and combine them together to create your breakthrough ideas. This process can happen quickly, but usually it requires time and is better realized by stepping away and iterating on your original inspiration.
Making the cross-connection requires a certain daring. It must, for any cross-connection that does not require daring is performed at once by many and develops not as a "new idea," but as a mere "corollary of an old idea." – Isaac Asimov
5. Creation & Delivery: Now that you've ideated the core concept you want to convey on stage, you need to determine how you will deliver it to the audience? Will you present the idea through images, quotes, video clips, personal stories, real-world examples, audience involvement, body language or a combination of these? Regardless of which approach(es) you use, your main focus should not be what's on the screen, but what you say about your slide(s).
6. Learn & Improve: Do some reflection after your presentation and ask audience members for feedback. See what aspects of your presentation they liked or that inspired them. If no one mentions your breakthrough idea, then either the idea didn't achieve the "aha" status or there may have been a problem with your delivery.
Ask follow-up questions and specifically about your key ideas. Read the post-event survey and see if the audience members specifically say things like: "I loved when Mary talked about …." For future presentations, experiment with some tweaks and different approaches until you feel you've nailed it.
What are the keys to your idea generation process? Please take my short 5-question survey and I'll share the results in a future blog post. Thanks!
Take the survey to share your idea generation process.
A few of the articles that contributed to or confirmed ideas in this post, include