Using a strong quotation in presentations is something that your audience can grab onto, connect with and hopefully want to share with their network and peers. A few good quotations can bring key points in your presentation to life and make your message more impactful and memorable.
Where to find great quotations? There are dozens of online sources for quotations, however, one of the best in my opinion is BrainyQuote. Regardless of what site or sites you end up on when searching for a great quotation, don't stop at the first one that looks good. Peruse multiple sites and dozens and dozens of quotations until you find the perfect one.
A quotation that you love and think is amazing and perfect could actually be a dud when presented on stage. Here are a few key characteristics to consider when choosing a quotation:
Relevance: The most important consideration is finding a quotation that brings your point to life and isn't just a convenient quotation from a famous person.
Length: The human brain has to process each letter of text on a slide and so when possible you want to use a quotation that is short, simple and almost jumps off the screen. You also do not want to have to read it off the screen or monitor because it is really long. Visually, a very long quotation looks overwhelming to the audience and they may choose not to read it to themselves – and therefore may not stick in their mind.
Recognizability: Using quotations from widely recognized people will usually resonate with an audience better than someone who is unknown. A quotation from a famous person increases credibility and likelihood that it will be shared on social media.
Simplicity: Choose a simple quotation if possible. While the quotation hopefully will get your audience to think and have an impact, you don't want them to still be processing the meaning three slides later.
Surprise/"Aha" quotient: Look for quotations that may have a surprise or "aha" element to them. It might be that the words and meaning are unexpected coming from person being quoted. Or perhaps the quotation is counter to common wisdom, is funny or has an obvious "Why didn't I think of that?" feeling.
Tweetability/Share worthiness: Another reason to use shorter quotations is that they are more easily shared via Twitter and other social channels. A long quotation is not only harder to type for audience members, but it may not even fit within Twitter's 140-character limit. A Tweetable quote also likely embodies all or many of the above characteristics.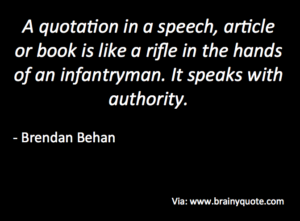 Tips for Presenting Quotes on a Slide
Once you've found that amazing quotation, you need to effectively bring it to life on a slide. Here are a few tips to consider:
Use a large font size: The optimum font size will vary based on the length of the quotation, slide format used (4:3 versus 16:9), and if you are using a background image with limited space for text. A good rule of thumb is 36-48 point font for a quotation with an image and a fair amount of room for text. You can use a larger font, such as 54-82 point, if the slide background does not have any images. If the quotation is fairly long and or set on a busier background image, you'll want to use a font no smaller than about 24 points to ensure it is easily read by everyone in the audience.
Font size for the name of the person quoted: Consider using a font size of 25 percent to 50 percent of the size used for the quotation itself.
Background options – make it easy to read: Keep the slide background simple. White text on a black background or black text on a white background are the two most common, but also most effective approaches. If you use a background image, ensure that there is plenty of room to place the text so that it isn't competing with the imagery behind it. Imagery frequently used behind text includes nature scenes such as an ocean, a blue sky or clouds, sunrises and sunsets and mountains.
Consider using an image of the person being quoted: An image of the person being quoted can add an additional visual cue for the audience, especially if they are immediately recognizable. This can also be a good approach if you don't have any appropriate imagery that embodies the quotation.
Attribute the source of the quotation: If you used a quotation website or found the quotation in a blog or article, it is a good practice to include attribution on the slide. You can put the source in a smaller font located at the bottom of the slide, but do include it. If the source of the quotation provides additional credibility or context, such as The Wall Street Journal, New York Times or a respected industry publication, you may want to make the attribution more prominent.
Your/Peer Quotations
Some of the best quotations are simply those you've thought of yourself or that you've borrowed from a friend/family member, co-worker, boss or industry peer. Your own sources can be from articles or blogs you've written, wisdom you share with clients or co-workers or those inspirational emails, tweets or comments on someone's Facebook page.
If something seems to resonate with audiences, jot it down and make it part of your repertoire of sayings. Consider creating a slide deck of your favorite quotations or capturing them in Evernote or similar note-taking app. And don't forget to enhance your personal quotations with great imagery and use of animation/builds for a more dramatic affect.
The Spoken Quote (Not Included on a Slide)
Of course not every quote you share with the audience will be or deserves to be included on a slide. Some may just pop into your head or may be something you ad lib as you talk about a concept that is the key focus of a slide. In these cases, verbally share the name of the person you are quoting.
Of course, it only makes sense to close this post with a quotation on quotations:
I love quotations because it is a joy to find thoughts one might have, beautifully expressed with much authority by someone recognized wiser than oneself.
~Marlene Dietrich (via QuoteGarden)