After being introduced at a recent conference, a speaker opened her talk with my top two pet peeves for inexperienced speakers: she told us it was her first-time speaking and that she was nervous. She then went on to make about 5 more mistakes from my list of "10 Rookie Speaker Mistakes."
So whether you are a first-time speaker or veteran, try to avoid these common mistakes:
1. Announce to the audience that it is your first time speaking and/or that you are nervous. Getting off to a great start is perhaps the most important part of presenting on stage – especially for an inexperienced speaker. Telling the audience that: "This is my first time speaking" may make you feel better and get some claps or audible encouragement – but it likely won't improve the success of your presentation or increase your confidence.
Talking about your inexperience distracts you from nailing your opening and setting of the rest of the content of your presentation. Instead of coming clean that you are an inexperienced speaker, open with a story or something fun or humorous that quickly gets the audience behind you and builds your confidence. This will help you relax and get you into a rhythm that will soon have you forgetting where you are and that it is your first time in front of an audience.
The audience assumes that most speakers are at least a little nervous. Almost everyone, even professional speakers, have a bit of nervousness when they walk on stage. Their nervousness may be from the desire to make it one of their best presentations ever, or that they are using brand new slides – whereas your anxiety is from simple inexperience and fear.
Instead of te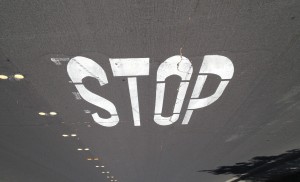 lling the audience you are nervous, focus on techniques that actually help calm down your nerves. You may be close to hyper-ventilating when you first start speaking, so be aware of your pace and start taking extra breaths and try to slow down. Find a friendly face in the audience – even if it is a co-worker, friend or client – and speak to them and use your familiarity with them and their approving glances to minimize your nervousness.
2. Forget to bring water on stage. All speakers need water to keep hydrated and their throats lubricated. But inexperienced speakers in particular are unaware that being nervous dries out your throat, increasing the need for water. Grab a bottle or glass of water and put it somewhere on stage where you can easily access it multiple times throughout your presentation. Then take a sip every 5-10 minutes, or whenever needed, when you pause for emphasis, field a question or are changing slides.
3. Wear you conference name badge on stage. Nothing conveys a newbie more than wearing your name badge on stage when you speak. We know who you are – your name is in the conference guide, on your title slide and the person who introduced you told us. You look unprofessional with that lanyard and name badge dangling around your neck and messing with the look of your attire. When the A/V person is getting you set up with your lavalier mic, take off the lanyard name badge and put it somewhere. You can put it back on when you are done, but never wear it on stage.
4. Not running through your slides on the big screen ahead of time. You are humming along with your presentation, starting to get in a groove and then you click to a slide and the chart or image doesn't show; the white text blends into the background color making it nearly unreadable; or you discover you forgot to make that last change or delete a slide.
ALWAYS do a run through of your slides on the computer you will be using and with your slides projected on the screen in the room you will be speaking. If the event organizer hasn't scheduled a run-through time, make sure you plan to meet with the A/V person before the event starts, during lunch or a break or at the end of the day. Things to check for include:
Do all images and charts show?
Do the animations work the way they are supposed to?
Is the text readable on the background (background colors often become lighter or faded on projectors or screens under bright lights).
Are the slides, section headers, closing slides, etc. all in the right order?
Are there any typos you may have missed, but you now see on the big screen?
If you have audio or video does it play properly?
5. Bring notes, cards, your laptop, etc. on stage. You've got this thing. If you've constructed your presentation properly, then your slides function simply as backdrops to your story telling. You know your story. If you've rehearsed properly, you'll realize that each slide triggers a story that you know – because you've either lived it or created it.
Until you've spoken in front of an audience a few times, this can be the hardest concept to grab. Inexperienced speakers often think they have to script every slide out in detail – whether with text on the slides or as notes. But trust your knowledge of the topic and be confident that you can just talk to each slide, without having to reference notes on cards, a tablet or laptop.
6. Read from your slides. Try to avoid reading bullets or sentences word for word from your slides. Hopefully you made your presentation very visual and didn't create a bunch of text-based slides. That would be sure pain, worse than fingernails on a chalkboard, for the audience.
If you do have a fair amount of text on your slides, use the text just as a reminder and bring the point(s) to life using your own words. Elaborate. Ad lib. The audience came to hear you talk – not watch you read your slides.
7. Apologize about your slides. "Sorry you can't read this." So, you know before you go on stage that the audience can't read that chart you've included? Don't apologize. Instead, fix it before you go on stage. Show the chart if you want, but then enlargen and highlight the key information you want to convey.
8. Hide behind the podium. Standing behind a podium is a frequent crutch for new speakers. Podiums are for press conferences and police chiefs, not public speakers. You can hold on to a podium. Hide most of your body behind it. But guess, what. People want to see who you are. If they are on the opposite side of the stage from the podium they want you to share some of your face time with them.
Get out from behind the podium and move around the stage. The walking around on stage should also help you relax more than standing like a robot behind a wooden (or plastic) box.
9. Lose track of time. "How much time do I have?" This is a common mistake that even many experienced speakers make. First, estimate accurately how much time you will actually have for your session. Is the session likely to start on time? Is there a chance the person introducing you will also make administrative announcements or get long winded talking about when they first met you? How much time will you allot for Q&A? Will you take Q&A during your session?
Secondly, have a watch, smartphone or tablet somewhere on stage with a timer or clock that you can easily spot and use to keep track of how much time you have left. Of have someone in the audience hold up a sign with 10 minutes, 5 minutes, etc. Many event organizers will do this or provide a countdown timer (with colored green, orange and red lights) on the podium or floor monitor. But I recommend having your own way of keeping track of time as well. Ultimately, it is your responsibility, and no one else's to be aware of how much time you have left in your session.
10. Not have a closing or transition to the Q&A period. How many times have you heard a speaker move along through their presentation and then suddenly say: "And that's all I've got." Really? There are two problems with this:
1) This probably means you didn't have a clear and good ending to your presentation. You simply ended with your last point. After your last key slides, have at least one (and possibly more) transition or wrap-up slides. They can be a summary of what you talked about. Or they might be "3 Lessons I Learned," or "5 Things to Do Next", or "How to Get Started" or "5 Mistakes to Avoid."
2) You haven't warned the audience that your presentation is coming to an end. Without a warning, they have no time to process your content and start thinking about questions. When you end suddenly without any notice and then open it up for Q&A, you increase the likelihood that few if any audience members will ask you a question.
Did I leave anything out? What are the top mistakes either you've made or seen inexperienced speakers make? Please share in the comments.